Description
Taste of Mesa
Taste of Mesa is a monthly networking program sponsored by and hosted at area Chamber member establishments. We are often told by our members that providing them with real networking opportunities is perhaps the most valuable membership benefit the Chamber can provide. That is just what Taste of Mesa is all about . It is an opportunity for members to get together, meet each other, exchange business cards and network.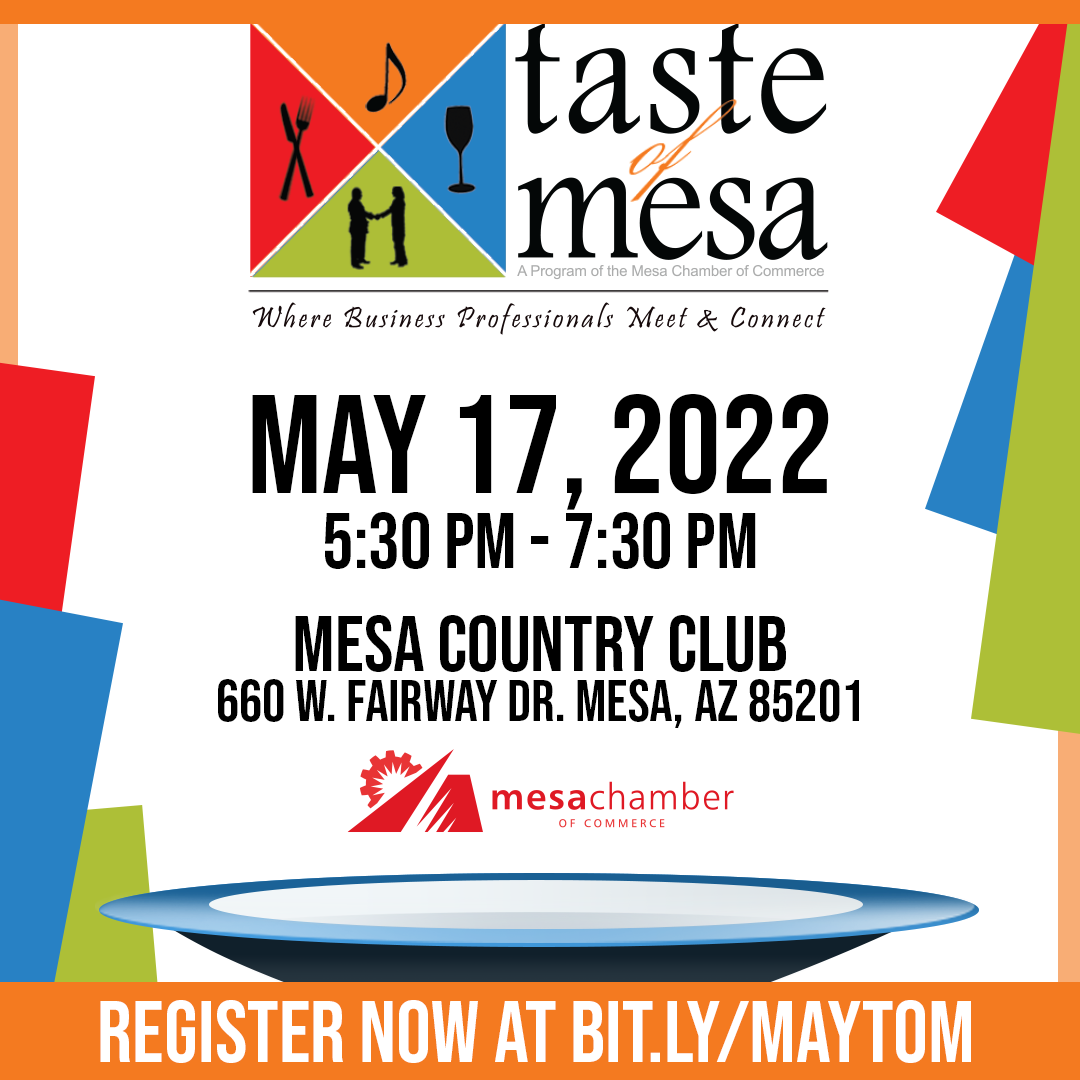 About Mesa Country Club
In the pantheon of Arizona private golf, there are a few classic city clubs - Arizona Country Club, Phoenix Country Club, Paradise Valley Country Club, Tucson Country Club, and, of course, Mesa Country Club. All constructed at nearly the same time in the mid-1940's, these five courses exemplified innovation when they were first built, and they define classic now approaching seven decades later.
Located along the borders of Tempe and Scottsdale in northwest Mesa, Mesa Country Club is a traditional gem in every sense. A completely core layout set among towering eucalyptus and pines, the holes move left and right on this 6,800-yard, par-72 routing (view our Photo Gallery to see the course). Instead of defending itself strictly through length, the course challenges players' strategic abilities with its subtle movements and lightning-fast postage stamp greens. While the William ''Billy'' Bell design is perhaps best known for its dramatic 10th tee reminiscent of the opening hole at Riviera Country Club in Los Angeles (another Bell project under the guidance of George Thomas), many remember the course for its four distinct ''road holes'' which add a charm not seen in modern clubs.
Unlike its relatively flat brethren, Mesa Country Club skirts up and down the plateau from which the city got its name, creating dramatic elevation changes throughout the twists and turns of the course. This topography - combined with a club campus which includes three dining options, six lighted tennis courts, a junior Olympic pool, spa, and golf practice facilities - makes Mesa Country Club the home for discerning players from Mesa, Scottsdale, Tempe, Phoenix, Gilbert and Chandler.
Pro Networking Tip (Sponsored by Copa Health)
Bring a Door Prize
Members did you know that if you bring a door prize to Taste of Mesa you will get a minute at the mic. to promote your business. Valid for Members only (value of $25 or more)
Registration Includes:
Access to the event.
Food
Eligibility to win Door Prizes
Eligibility to win The Big Prize (see below)
Dress Code:
Business Casual
The Big Prize Amount: $300
Businesses in good standing with their Chamber membership are entered into a drawing each month to win The Big Prize. Members may sponsor the Big Prize ($100) and in doing so will be the emcee for the evening's program. One member's name is drawn, and if that member has an attendee at the event, the member business wins the complete pot of money. If the drawn business is not present, the $ rolls over to the next month and increases by the next sponsor's $100.
Big Prize Sponsor: Mountain View Funeral Home & Cemetery
Become the next Big Prize Sponsor! Contact the Chamber and get these great benefits: listed (with link to your Chamber profile) in the public Calendar You get to host the presentation portion of Taste of Mesa and talk about you, your business and hopefully, bring the joy of winning the Big Prize to a member!