2022 4th Annual Green Flag Mesa 24 Hour Business Plan Challenge
2022 4th Annual Green Flag Mesa 24 Hour Business Plan Challenge
Friday, September 23, 2022 6:00 PM - Saturday, September 24, 2022 6:00 PM (MST)
Description
It is, exactly what the name implies. Entrepreneurs building the plans for their business, in 24 hours. Participants have just 24 hours to build and submit their business plan.
Plans will be judged by a panel of business and education professionals, and the winner will receive $1,000.
Be a Competitor
Want a chance at the prize money? Reach out to Dan Piercy at Mesa Community College to learn more about signing up!
Be a Mentor
We are looking for business professionals to be available to the participants through the event as mentors and support. Times are flexible and we'd love to have you on site! Email Chamber Director of Communications Bob Nelson to sign up.
Be a Sponsor
Enjoy the benefits of having your business support the entrepreneur spirit in Mesa by being a sponsor for the event. Sponsorships are flexible, email Chamber Director of Communications Bob Nelson to learn more.
Green Flag YouTube Live

All through this year's event, The Mesa Chamber Inside Business Podcast will be live online via our Mesa Chamber YouTube channel. We'll be visiting with sponsors and participants and celebrating the entrepreneur spirit. Watch for it here.
Learn More About Green Flag Mesa
An innovative partnership between Mesa Community College and the Mesa Chamber of Commerce, you can learn more by clicking the respective links.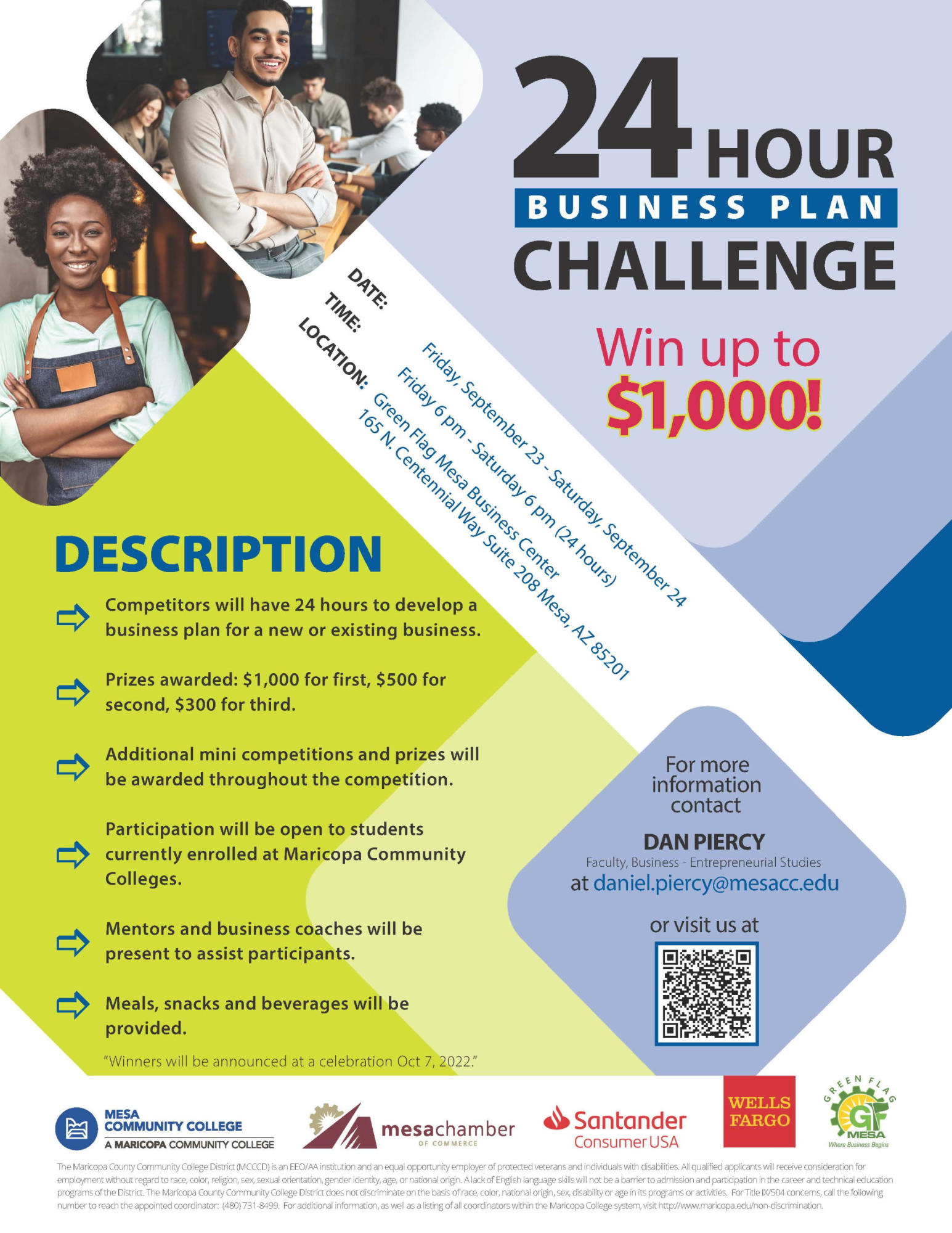 Images
Mesa Chamber of Commerce
165 N. Centennial Way Suite 208



Mesa

,

AZ

85201

United States



Friday, September 23, 2022 6:00 PM - Saturday, September 24, 2022 6:00 PM (MST)
Categories
Chamber- Mesa Chamber Event