Taste of Mesa: Burger Challenge Sponsored by Superstition Manor
Taste of Mesa: Burger Challenge Sponsored by Superstition Manor
Tuesday, June 21, 2022 (5:30 PM - 7:30 PM) (MST)
Description
This months Taste of Mesa will feature a special Burger Challenge! Grab a bite and cast your vote to help us crown our local Burger Champion.
Participants: Jarrod's Coffee, Tea, and Gallery, Mesa Country Club, Tommy's Wood Fired Grill, Bobby Q's, Longbow Golf Club, On the Border,

Relax from a hard day's work with a great opportunity to meet your fellow Chamber members for a drink and some heavy appetizers. Taste of Mesa is the premiere evening networking event in Mesa. Mix and mingle with your business peers, expand your contact network and have a great evening. Additionally, you have the opportunity to win a door prize, a 50/50 raffle or even The Big Prize (see below).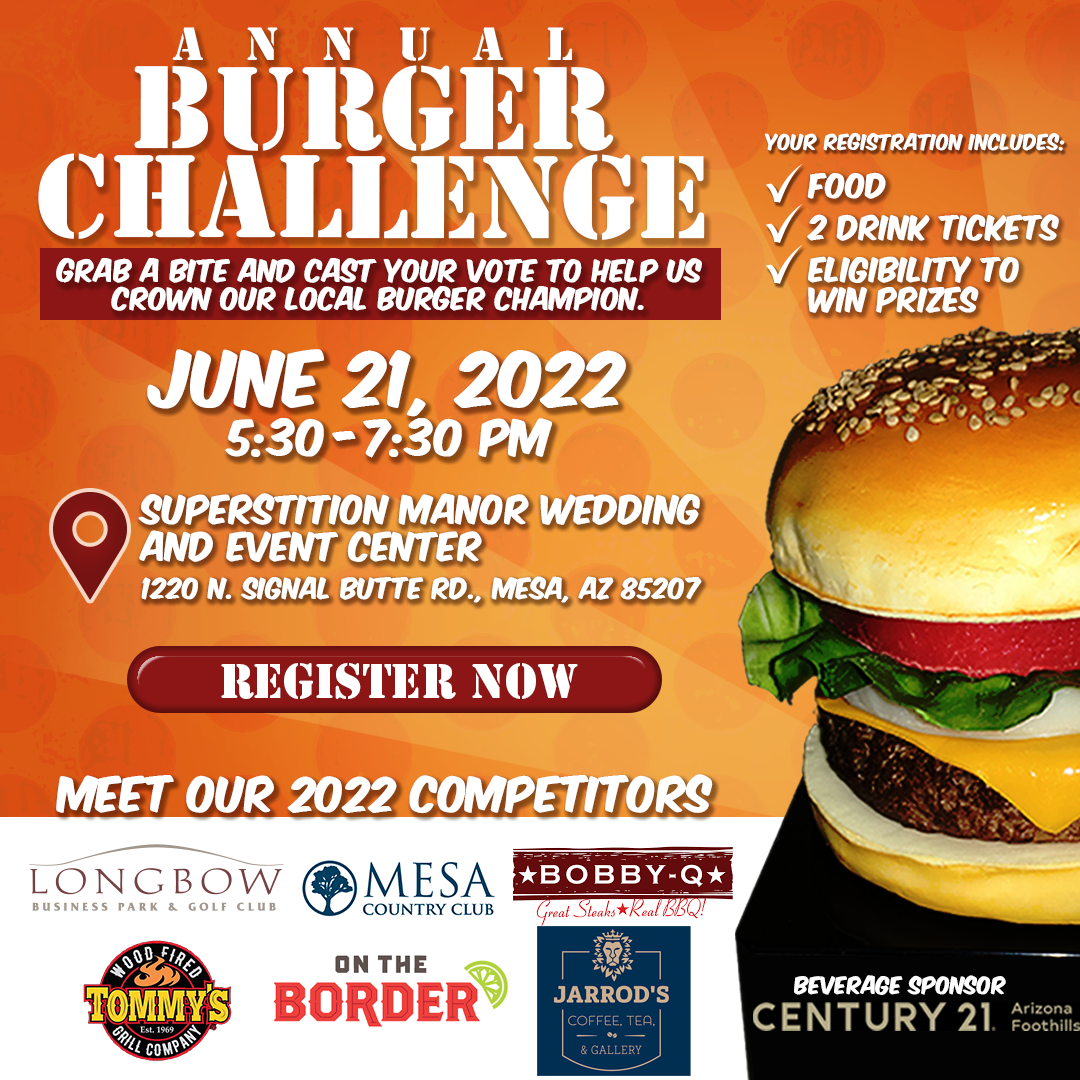 About our host, Superstition Manor Wedding & Events Center:
From one family to another, Superstition Manor has always been about celebrating unions, special days, and family events. The Burns family started the venue in 2011 and held their daughter's wedding a year later as the first event on the property. They have recently passed their legacy onto the Cotter family who have been vendors for Superstition Manor since its start! They fell in love with the property, the staff, and the business so when it came time for the Burns to retire they knew they had to have it! They hope you come to love Superstition Manor as much as they do and that your event here is filled with laughter, love, and happy memories! From the Cotter family to yours- they wish you a lifetime of happiness! As they like to say- the best is yet to come!
This Month's Beverage Sponsor: Century 21- Arizona Foothills- Leslee Wilson
CENTURY 21 Arizona Foothills has been a leader in real estate since 1988. They have won every award that CENTURY 21 bestows on its offices from the Grand Centurion Award to the coveted 2100 Cup Award. With over 500 agents to meet any of your real estate needs, they have offices in Ahwatukee-Foothills, Chandler, Gilbert, North Phoenix, Glendale, Surprise, Peoria and Scottsdale. Each of their nine offices has a full-time sales manager. Century 21 Arizona Foothills offers their clients a full scope of services including property management, relocation, an in-house lender, multi-lingual sales professionals & an extensive advertising budget. They have a full support staff behind all of their agents and that means full support for you! CENTURY 21 Arizona Foothills also offers its sellers the latest in technological marketing strategies with its national web site & virtual home tours.
Registration Includes:
Registration includes
Access to the event.

2 drink tickets

Food

Eligibility to win Door Prizes

Eligibility to win The Big Prize (see below)
Dress Code:
Business Casual
Pro Tip:
A great way to build legitimacy with your new Taste of Mesa contacts is to send them a follow up email the next day. Show them that you were interested in their business and who they are, and you'll start a great dialogue.
The Big Prize Sponsor: Banker's Life
Businesses in good standing with their Chamber membership are entered into a drawing each month to win The Big Prize. Members may sponsor the Big Prize ($100) and in doing so will be the emcee for the evening's program. One member's name is drawn, and if that member has an attendee at the event, the member business wins the complete pot of money. If the drawn business is not present, the $ rolls over to the next month and increases by the next sponsor's $100.

About Banker's Life:
Dorian Valente, MDRT, CLTC - Financial Advisor, Bankers Life, will build a retirement plan to help provide you with security and peace of mind so you can take in all the joys of retirement! Bankers Life has expertise in planning around retirement income, health expenses, retirement care and final expenses.
Sponsors
Taste of Mesa Host
Taste of Mesa - Big Prize
TOM - Beverage Sponsor
Images
Pricing
Registration Fee: $25
Mesa Chamber Member Discount for Advanced Registration: $15
Mesa Chamber Member at the Door Registration: $25
* Chamber Buck Eligible
** A-list Eligeble
Superstition Manor Wedding and Events Center
1220 N. Signal Butte Rd.



Mesa

,

AZ

85207

United States



Event Contact
Marcus Campbell
Tuesday, June 21, 2022 (5:30 PM - 7:30 PM) (MST)
Need a Reminder?
Text 'MESA' to 57711 and join the Mesa Chamber Text Club. Text reminders for upcoming Ribbon Cuttings and Lunch Mobs so you always stay aware.
The World Belongs
To Those Who Show Up
With the Mesa Chamber Monday Email Message, never miss a beat and attend the events that will help you grow your business. Click Here to Join. One message. One convenient summary of opportunities.
Categories
Event- Taste of Mesa
Networking- Afternoon/Evening
Chamber Member Event
Chamber- Mesa Chamber Event