Family-friendly play comes to the MCC mainstage
Family-friendly play comes to the MCC mainstage
M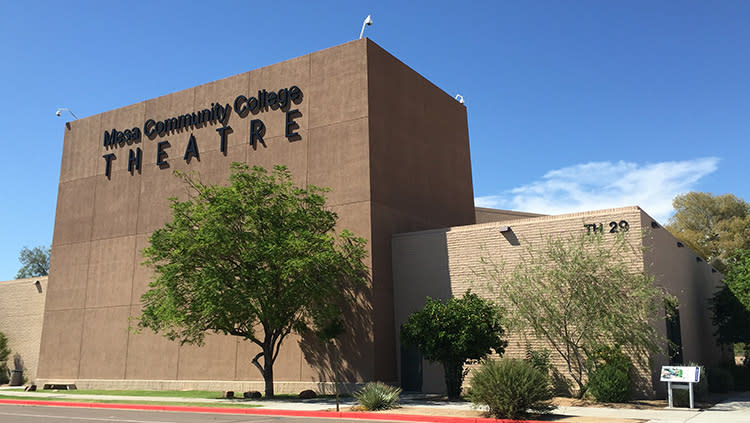 ESA, Arizona – April 8, 2022 – The Mesa Community College Theatre and Film Arts students are performing Rick Elice's Peter and the Starcatcher in the MCC Theatre starting April 29, with showings through May 7.
"We are ecstatic to welcome the public back to the theatre for this charming, family-friendly show," said Mace Archer. "The theatre creates a closeness between MCC and the public along with allowing everyone an exceptional experience for a very reasonable price."
In Peter and the Starcatcher, a prequel to Peter Pan, a young orphan and his friends are sent away from Victorian England to a distant island ruled by an evil king. At sea, the boys meet a Starcatcher-in-training named Molly, who discovers that the mysterious trunk kept in the captain's cabin contains a powerful celestial substance called starstuff. Adventure ensues when the ship is taken over by a group of pirates led by a dangerous captain determined to claim the starstuff as his own.
Tickets may be purchased online at mesacc.edu/arts, $12 for the general public and $9 for students, staff and military.
# # #
Media contact: Dawn Zimmer, 480-461-7892, dawn.zimmer@mesacc.edu
Mesa Community College is nationally recognized for university transfer, career and technical programs, civic engagement, service-learning and innovative approaches to education. On average MCC students provide 23,000 hours of community service annually. For more than 50 years, the college has served as a resource for education, workforce development and lifelong learning. Host to more than 25,400 students annually, MCC offers degree and certificate programs at its two campuses and additional locations through a combination of modalities. MCC is transforming how it champions student success through Guided Pathways with Integrated Support Services and a commitment to diversity, equity and inclusion. MCC is a Hispanic Serving Institution with nearly 50% of its students being the first in their families to attend college. MCC has the largest indigenous student population of all the Maricopa Community Colleges; its American Indian Institute serves students from the 22 federally recognized Arizona tribes as well as out-of-state tribes. The diverse student body includes hundreds of international students from around the world. Award-winning faculty are dedicated to student success, providing the education and training that empowers MCC students to attain their goals. Located in the East Valley of Phoenix, Arizona, on the traditional territories of the O'odham, Piipaash and Yavapai Peoples, MCC is one of 10 colleges in the Maricopa County Community College District. Visit mesacc.edu to learn more.
Mesa Community College is accredited by the Higher Learning Commission (HLC) -- hlcommission.org.
The Maricopa County Community College District (MCCCD) is an EEO/AA institution and an equal opportunity employer of protected veterans and individuals with disabilities. All qualified applicants will receive consideration for employment without regard to race, color, religion, sex, sexual orientation, gender identity, age, or national origin. A lack of English language skills will not be a barrier to admission and participation in the career and technical education programs of the District. MCCCD does not discriminate on the basis of race, color, national origin, sex, disability or age in its programs or activities. For Title IX/504 concerns, call the following number to reach the appointed coordinator: (480) 731-8499. For additional information, as well as a listing of all coordinators within the Maricopa College system, visit maricopa.edu/non-discrimination.