Profit Mastery Financial Performance System Workshop Kickoff
Profit Mastery Financial Performance System Workshop Kickoff
Friday, September 30, 2022 (9:00 AM - 10:30 AM) (MST)
Description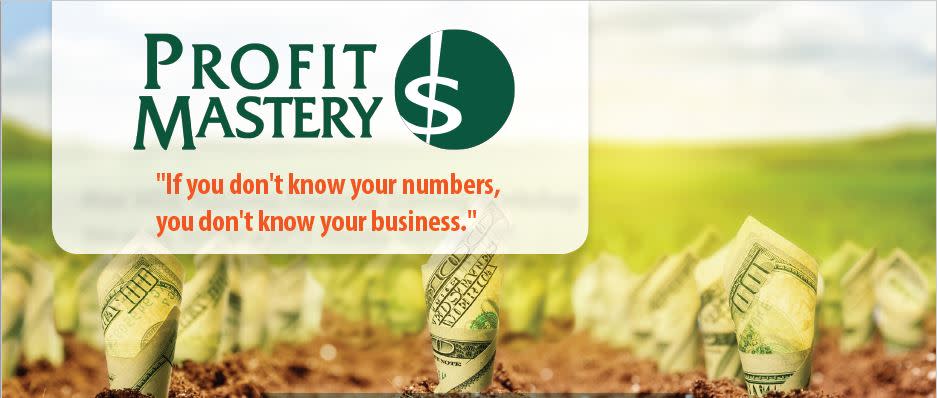 You Need to Register at THIS LINK to be included in the program.
Join the Profit Mastery Virtual Program
Presented by the City of Mesa
Profit Mastery® is a financial performance system with an international reputation for providing unparalleled financial management and business planning education.
Profit Mastery® is a user-friendly and funny 7-part workshop series that teaches the "how" of managing your business using your financial reports — something every business owner or manager needs to know how to do.
This program will be delivered using both the online video Profit Mastery curriculum - and seven virtual orientation sessions to accompany each of the Profit Mastery modules. The seventh session is a summary of all six Profit Mastery modules.
This workshop series will kick off September 30 with a LIVE event at the Mesa Arts Center featuring a keynote address, by Steve LeFever, the creator of Profit Mastery, along with the first lesson in the series.
Mesa Arts Center
1 E Main St, Mesa, AZ 85201
Piper Theater
9:00am-10:30am
You Need to Register at THIS LINK to be included in the program.
How To Enroll
Begin by filling out the Registration Form. Once reviewed, the Mesa Chamber of Commerce as the coordinator of registration for this program, will issue you an electronic invoice for your registration amount. Once paid, you are enrolled in the program and ready to attend the first session.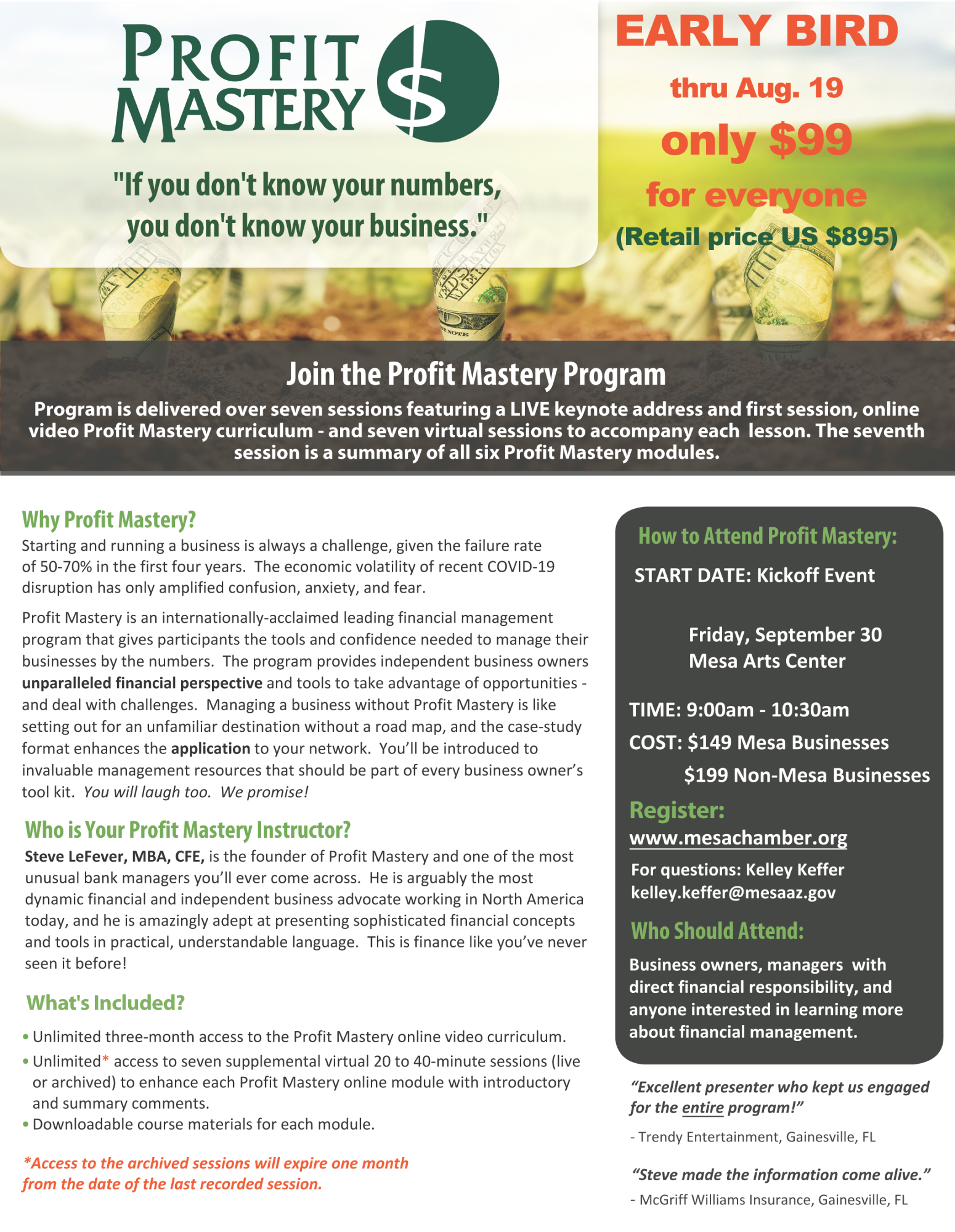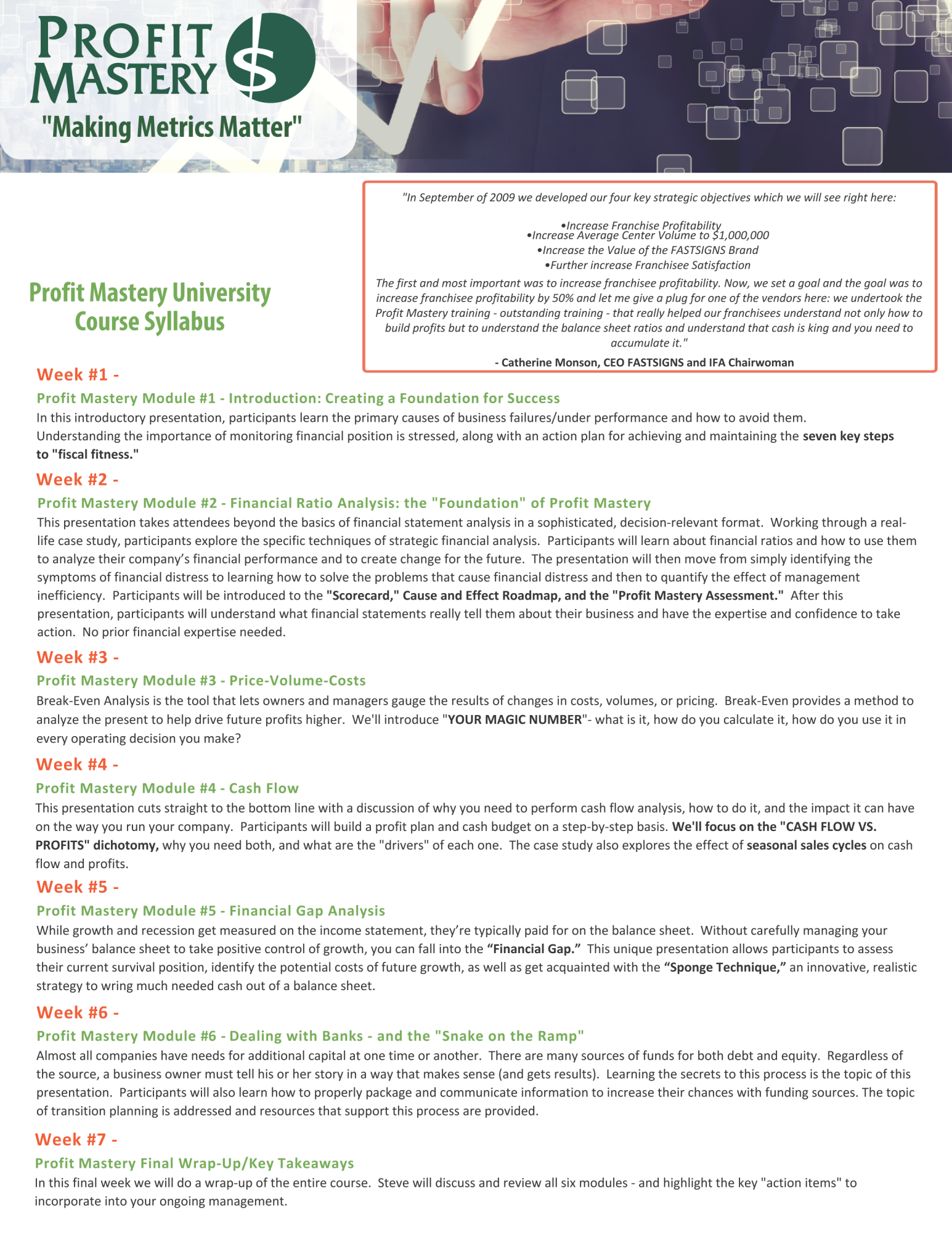 Pricing
This course has a LIMITED enrollment of 100 participants.
Normally, this extensive and informative series is available to attendees for $895.
The Mesa Business Builder Program has arranged for very special pricing:
Early Bird Registration - $99 special rate for all businesses and CTE participants who register by August 19, 2022
Following Early Bird Expiration- Mesa Chamber of Commerce members and participating Mesa Small Business Assistance Clients $149
*Additional special incentives upon completion of the course
Other Businesses (Following Early Bird Registration Offer) - $199
Mesa Arts Center
1 East Main St



Mesa

,

AZ

85201

United States



Mesa Arts Center
1 E Main St, Mesa, AZ 85201
Piper Theater
Friday, September 30, 2022 (9:00 AM - 10:30 AM) (MST)
Categories
Chamber- Mesa Chamber Event